Tasty Pastry Breads, Bagels
&

More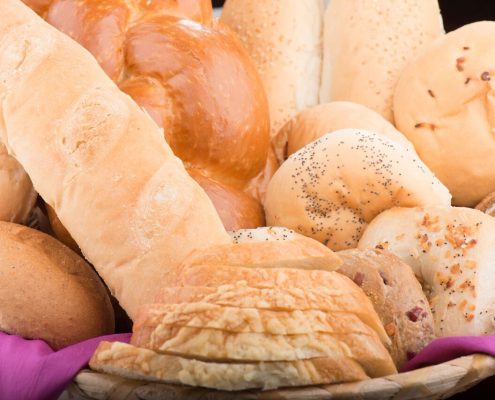 One of the services we pride ourselves in is Restaurant baking options. We know that local restaurants strive to provide Tallahassee's connoisseurs with delightful culinary experiences. We are proud to provide the fresh baked items to support their menus.
Baking for Tallahassee for over 50 years!
Our sweet, flaky Danish are filled with fruits and cheese or covered with a yummy topping. Need something for the office or an easy breakfast? Our coffee cakes will be a hit!
Danish: Cheese, Blueberry, Strawberry, Apricot, Pineapple, Streusel, Almond, Coconut, Bear Claw, Cinnamon Almond Twist
Coffee Cakes: Cheese, Blueberry Cheese, Cherry Cheese, Pecan, Streusel, Almond
Other Cakes: New England Apple Crumb Coffee Cake, Apple, and Cherry Turnovers
Croissants: Plain, Cheddar Cheese, and Chocolate
Who doesn't love these sweet, doughy morning treats? We have classics like glazed and chocolate glazed, some filled with raspberry or Bavarian cream, cinnamon twists and swirls, and cake donuts, too. Enjoy them by the dozen or grab one for the road!
Our bagels are boiled and baked to golden perfection each morning. Buy them individually, by the dozen or bread sliced on a platter. Enjoy with plain or veggie cream cheese.
Muffins come in large and small sizes. Enjoy classics like apple crumb, banana nut, and blueberry or something super indulgent like chocolate chip.