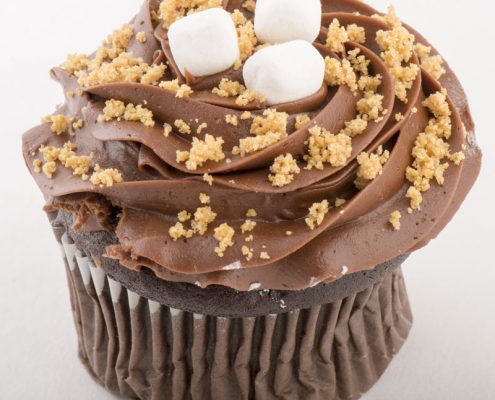 No matter what your occasion we have a cupcake flavor and style that is perfect to satisfy your sweet tooth. Ask our expert cupcake decorating staff to create you a custom design or bring us your idea.
Tickle your taste buds with Tasty Pastry cupcakes!
All flavors are available for order and many seasonal flavors are on hand daily.
Red Velvet – velvety red cake with cream cheese icing
Strawberry – strawberry cake with cream cheese icing
Carrot – carrot cake with cream cheese icing
Hummingbird – banana and pineapple spice cake with cream cheese icing
German Chocolate – chocolate cake topped with traditional coconut, German chocolate icing
Double Fudge – chocolate cake with chocolate fudge icing and chocolate sprinkles
White Buttercream – white cake filled and topped with our signature buttercream icing
Snickers – chocolate cake filled with caramel, topped with chocolate icing, snickers pieces, caramel, and peanuts
Rocky Road – chocolate cake filled with marshmallow fluff, topped with chocolate icing, marshmallows, chocolate chips, and pecans
Peanut Butter Chocolate chip – chocolate cake filled with peanut butter icing, topped with chocolate peanut butter icing and chocolate chips
S'mores – chocolate cake filled with marshmallow fluff, topped with chocolate icing, marshmallows, and graham cracker
Chocolate Raspberry – chocolate cake filled with seedless raspberry jam, topped with chocolate icing and a candied raspberry wedge
Bacon and Salted Caramel – chocolate cake with caramel butter cream, lightly salted, garnished with apple wood smoked bacon
Lemon Meringue – White cake filled with lemon pie filling, topped with caramelized meringue – think toasted marshmallow!
Mocha – chocolate cake filled and topped with mocha flavored buttercream
White Chocolate Raspberry – white cake filled with raspberry, topped with white buttercream, white chocolate curls, and a candied raspberry wedge
Lemon Coconut – white cake filled with lemon and topped with coconut
Boston Cream – white cake filled with pastry cream, iced with chocolate icing, and topped with a cherry
Apple Caramel – white cake filled with apple and topped with caramel flavored buttercream icing
Snicker Doodle – white cake with cinnamon buttercream icing
Chocolate Mousse – chocolate cake filled and topped with rich chocolate mousse and chocolate curls
Salted Caramel – white cake dipped in caramel and topped with a piece of our salted chocolate caramel bark
Cookies 'n Cream – chocolate cake filled with buttercream icing, topped with Oreo buttercream icing and an Oreo cookie
Chocolate Ganache – chocolate cake dipped in a rich, chocolate ganache, and topped with chocolate curls