Start your day with Tasty Breakfasts. Our protein packed hot now meals are easy to grab on the way to work or school.
Our menu varies daily but can include:
Big Continental Breakfast – sausage biscuits, assorted Danish and muffins, fresh fruit bowl, coffee and juice
Continental Breakfast – assortment of Danish, donuts, muffins and bagels, coffee and juice
Bagels and Cream Cheese – choose from an assortment of 12 kinds of bagels (made fresh by our bakers), served with cream cheese or preserves, cut fresh fruit, coffee and juice (assorted varieties)
Breakfast bagels sandwiches – with sausage or bacon and egg and cheese
Breakfast Casserole – yummy sausage and egg casserole, served with mini-Danish, coffee and juice
Quiche – your choice of sausage, ham, spinach and ham, or 3-cheese quiche, mini-Danish, coffee and juice
Fresh Biscuits – bacon, bacon egg and cheese,  or sausage biscuits, coffee and juice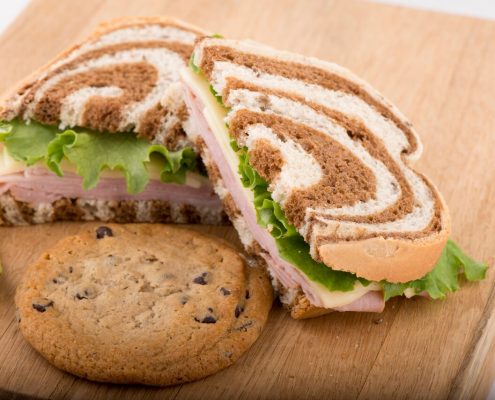 If you are hungry, we have you covered. Stop in for a quick lunch or grab a wholesome dinner for your whole family. We will even bring your staff lunch so you can stay at work on that project!
It's not fast food. Just good food fast.
It's not fast food, just good food fast. Our boxed lunches include a sandwich–turkey, ham or roast beef–on our homemade bread with chips and your choice of a regular cookie. You can't beat the taste or the price.
We're more than just desserts at Tasty Pastry. Let us be your dinner solution! Our fully cooked, homemade casseroles range from lasagna to shepherd's pie, and more. Just reheat and eat! Our selections vary daily, so call ahead to see what's cooking.
Your choices are:
Chicken Pot Pie
Chicken Tetrazzini
Beef Stroganoff
Chicken Parmesan
Baked Ziti with Meatballs
Shepherd's Pie
Vegetarian Lasagna
Meat Lasagna
Beef Stew
Vegetable Alfredo
Chicken and Vegetable Alfredo
Vegetable Primavera
Chicken and Vegetable Primavera
Pork Teriyaki w/rice
and many more!